I set up this post before I left for our vacation because I have a few people that I specifically wanted to be in prayer for while I was away.
Please say a special prayer for...
If you'd like to join me in Prayers O'Plenty, just copy the button below, post about it on your blog, list the people you are praying for, and then let them all know you are praying for them.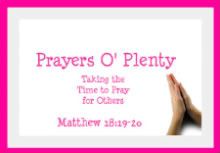 Many blessings!