Welcome to the Growing Our Own Garden's 2nd Annual Christmas Door Tour!!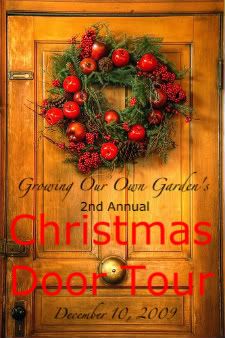 I am so excited to finally share our Christmas decorated door this year. I try to have some type of theme each year...and this year, my theme is GOLD!
Our wreath...I look forward to visiting Kuhn's Florist each year to pick up one of their fresh wreaths. It's so simple and smells GREAT! This GOLD wreath holder came from Pier 1 a few years ago and I believe my wreath doesn't need any other accessory.
This bucket was silver, until I bought a can of metalic GOLD spray paint :)
See the before and after pictures HERE.
I won this stocking last year from Southern Living and it has a hint of GOLD on the toe, heel and at the top. I think it looks great stuffed full of fresh garland.
I LOVE poinsettias! There is just something about their pretty red or white leaves that seems to put me in the Christmas spirit! If you look close enough, you can see a little frost on these poinsettias. And of course, my handy dandy metallic GOLD spray paint helped turn these wicker baskets into perfect GOLDen homes for these poinsettias.
And if you put all these pieces together...you'll get our entire Christmas (GOLD inspired) decorated front door!

Now it's YOUR turn to share your door! Post about your Christmas decorated door and enter your link in the MckLinky below!

Merry Christmas!